[12]24 July 1833. King Leopold of Belgium notifies King Othon of Greece of the birth of his son. This is the first recorded communication between the two States which could be considered as de facto recognition. The communication took place through the Ambassador of Greece in Paris Μ. Soutzos, to whom the letter was delivered and who then forwarded it to Nafplio.
31 January / 12 February 1837. Arch-Secretary of State (Prime Minister) of Greece Count Joseph Ludwig von Armansperg orders the Ambassador in London to negotiate with the Ambassador of Belgium the conclusion of a Treaty of Commerce. Although no formal diplomatic relations had been established yet, formal trade relations are being developed.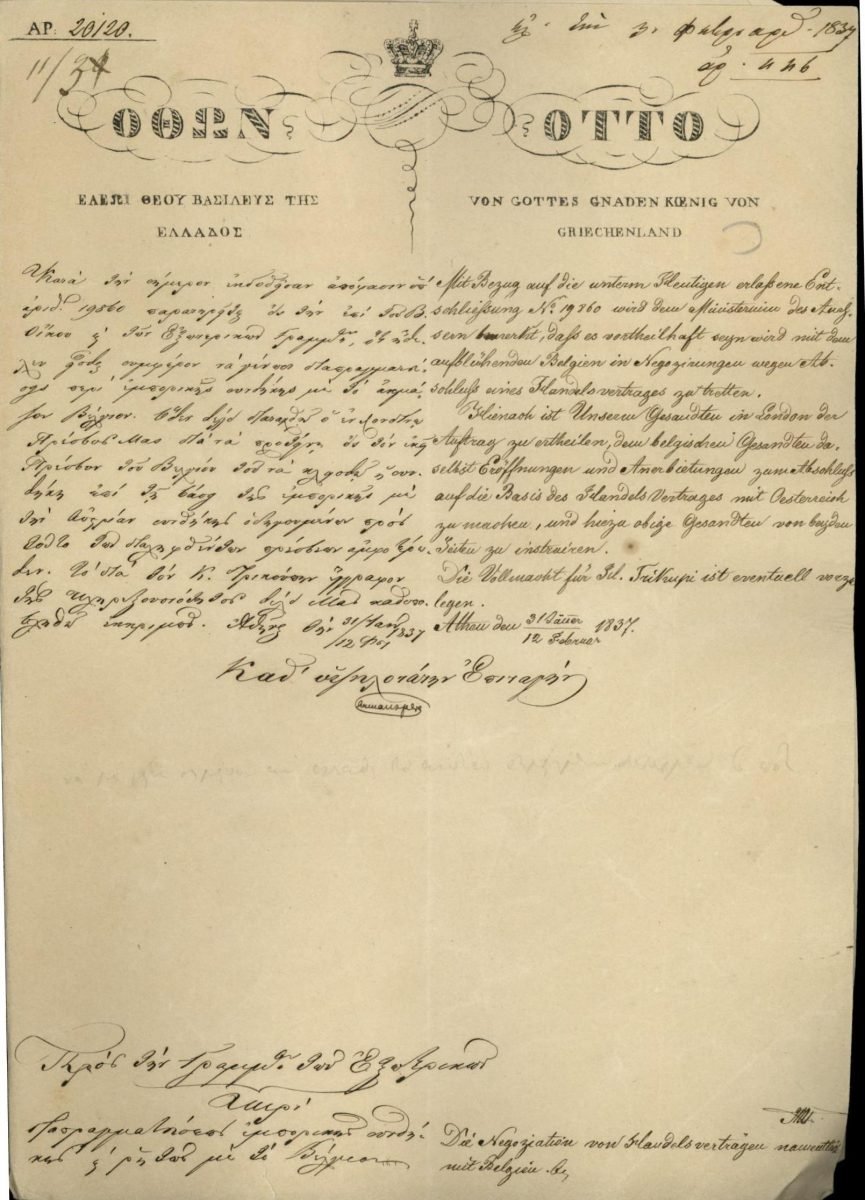 [29 November] 11 December 1838. The Belgian Ambassador in Paris informs Greek Ambassador Ioannis Kolettis that the King of Belgium intends to appoint Benjamin Mary as Belgian Chargé d'Affaires in Athens, thus inaugurating diplomatic relations between the two countries.
[1]13 December 1838. The credentials of the first Belgian Chargé d'Affaires in Athens Benjamin Mary, signed by Minister of Foreign Affairs Barthélemy de Theux de Meylandt.
22 July / 3 August 1839. The first Belgian Chargé d'Affaires in Athens, Benjamin Mary, announces, from the Embassy of France where he temporarily resides, to the Greek Minister of Foreign Affairs, Kon. Zografos his arrival in Athens and his request to present his credentials to him. Zografos answered him the same day and the meeting took place the next day, on 23 July / 4 August.
[19]31 July 1840. One year after his arrival, the first Belgian Chargé d'Affaires in Athens, Benjamin Mary, announces the nomination of Belgian Consuls in 3 cities of the country (Athens, Syros, Patras) and asks for their recognition by the Greek Government.
26 August / 7 September 1840. Recognition of the Belgian Consul in Athens Octave Metivier by King Othon.
---
Info!
Greek Ambassador in Paris (and former Minister of Foreign Affairs) Andreas Kountouriotis was appointed as first Ambassador of Greece in Brussels in 1875, with parallel accreditation.
---