Thomas McGill
The "first Consul of Greece"
Malta was the seat of the first Consul of Greece. Thomas McGill was a Scot merchant who lived in Malta for about 30 years and, among other things, published a famous travel guide to the island ("Handbook, or Guide, for Strangers visiting Malta", 1839). His consular status was not initially recognized by the British Government, as the Independence of Greece had not yet been established, but, because he was a philhellene, he had been acting as Consul since 1827 and was treated as such by the Greek Government.
[25 April] 7 May 1827. The first retrieved report by the "Consul of Greece" in Malta, Thomas McGill, on issues of interest to the Greek Government.
[19 June] 1 July 1827. The Chief Secretary of Malta informs Minister of Foreign Affairs Georgios Glarakis that he cannot recognize Thomas McGill as Consul of Greece unless he receives approval from London. Glarakis had requested recognition in a letter dated 18 February 1827.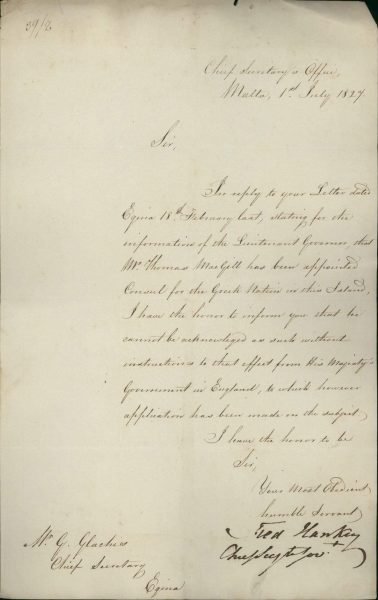 1828. Handwritten dedication to Governor Ioannis Kapodistrias and first page of a document, allegedly drafted by Thomas McGill, comprising his nomination and detailed instructions for his duties. This document can be considered as the first draft of a consular handbook of the Greek State.
[9]21 August 1829. One of the many reports sent since 1827 by the Consul General of Greece in Malta Thomas McGill. It is the first report written on a page with the official header "General Greek Consulate, Malta" and one of the first ever documents printed with the header of a Greek consular Authority.
March-April 1833. The Regency officially (re)appointed Thomas McGill as Consul of Greece in Malta by Decree signed on 22 March / 3 April 1833. The decision had already been transmitted to McGill on 11 February and, therefore, it had been taken long before the signing of the Decree and a few days after the arrival of Othon. In his reply, Thomas McGill states, inter alia: "The satisfaction of His Majesty for the zeal and the services I offered to Greece for 6 years during its torments is very flattering to me and will always be the driving force of my efforts in the interest of the Crown and for the prosperity of the trade of its people".