---
G. Douroutis: The first Consul in Ancona
Georgios Douroutis (Giorgio Durutti), a merchant born in Kalarrytes, Ioannina, in 1770, settled in Ancona in 1793, where he developed extensive commercial activity, mainly in the field of wool fabric trade. Member of the Society of Friends ("Filiki Eteria"), he financially contributed to the War of Independence and was a friend of Ioannis Kapodistrias. He was appointed Consul of Greece in 1833 and died in Ancona in 1836.
---
5/17 November 1834. The Greek Consul in Ancona informs the Greek Ministry of Foreign Affairs that the Pope has appointed Giacomo De Concina Di San Daniele as Consul General of the Papal States in Greece. However, De Concina has never arrived in Greece.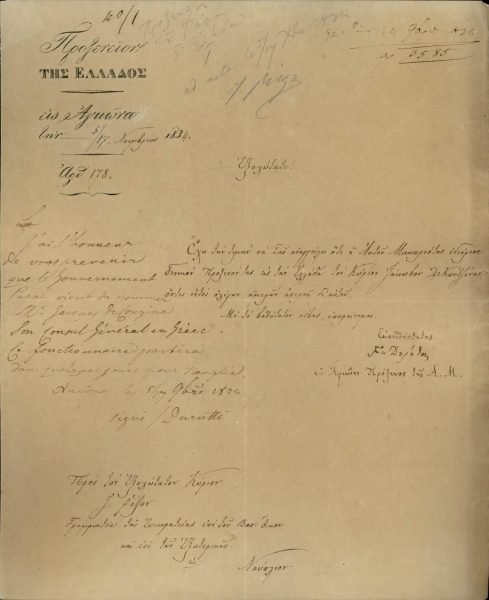 5/17 June 1838. Domenico Moretti was the first one to assume the duties of Consul General of the Papal States in Greece. Royal decree of his recognition by King Othon.
---
Info!
Diplomatic relations between Greece and united Italy were established for the first time in June 1861.
---